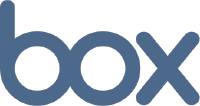 Box is cloud based content management platform. They offer you the ability to upload, download and share with others various types of content.
They provide this for you and your team however also for your partners. It becomes very easy and fast to get your content from one team and share it with another.
If you are a marketing content specialist, it becomes easy to then easily share created works with your customers.
They believe that they provide you with a single platform to accelerate your business and set you up from competitors. With increased employee productivity, security and clean design you are set for great experience.