Bulk Video Uploader
You can upload multiple videos via your own personal Ziggeo dashboard.
You can find the bulk uploader in your private dashboard. It looks like this: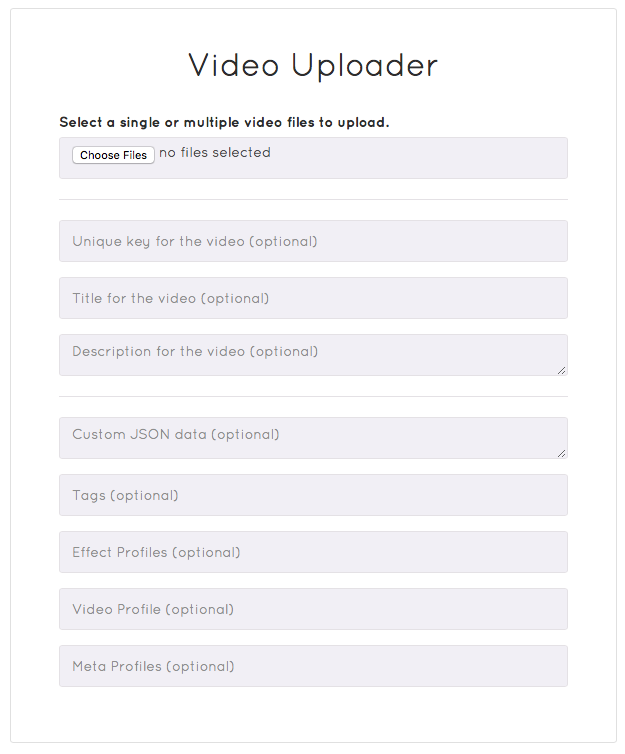 Uploading Multiple Videos
Here's how you can upload multiple videos:
Go to personal dashboard and select to upload videos from your videos tab.
Select all videos you want to upload from your hard drive.
Click upload.
Note.
Videos can be any length
No limit of number of videos uploaded
Frequently Asked Questions
Are there any limits?
Generally there are no limits, yet our bulk uploader through dashboard is limited to about 2GB file. You can have multiple 2GB files, each to 2GB on its own. Our API however is completely without any limits and can accept files of any size so for really large videos we would suggest using the same.
Can we set unique key for all of the videos?
The screenshot above is showing you the uploader in its initial state. As soon as you add more videos to upload, the fields that are unique to video will be removed to avoid confusion. So you can set unique key for one video at a time, and for bulk uploads we would suggest using one of our powerful
server side SDKs
.
Is this available on all plans?
Yes, the uploader is available on all plans. All you would do is log into your account and you would immediately be able to start uploading videos to your Ziggeo account.