Light Indicator
Ziggeo's light indicator indicates to the person recording a video whether there is a enough light so the light conditions can be quickly corrected.
What's a light indicator?
A light indicator:
Makes it as easy as possible to capture videos with the right amount of light.
Ziggeo's light indicator indicates if there is enough light before videos are actually recorded.
Our light indicator serves as guide to those recording so they can correct and find the best possible light.
How does the light indicator work?
A light indicator includes:
If the light quality is poor
If there is too much light
If there is not enough light
A light indicator will indicate green:
If there is enough quality light
What does the light indicator look like?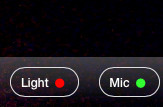 Note: this graphic (made from CSS) can be changed to any desired graphic.
What are the benefits of a light indicator?
Immediate notification of poor light.
Light conditions can be quickly corrected so you receive well lit videos.
Frequently Asked Questions
Does the light indicator always look like that?
Actually it does not. This greatly depends on the
recorder theme
that you are using. Different themes have different looks as well as different locations where the sound and light indicators are placed.
Does it have to be red and green light?
Red and Green are universal colors and are the reason why we decided to use them as well. With that said, you can change green to blue and red to gray, or any other combination that you want. Our embeddings (recorder and player) are designed to be easily changed through CSS codes allowing you to do this.
What would happen if the light changes during recording?
The indicator is updated. So if the lighting is great you will see green. If it changes, then you will immediately see red icon instead.