Sound Indicator
Ziggeo's sound indicator immediately notifies the person recording if there is adequate sound for a quality video.
What's a sound indicator?
A sound indicator lets the person recording a video know if there is adequate sound for a quality video.
Ziggeo's Sound Indicator
Ziggeo has developed a sound indicator that lets you know:
If you sound quality is poor
If you're not speaking loudly enough, or
If your sound volume is set too low.
Sound Indicator Graphic Can Be Modified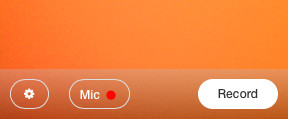 You can change the graphic so the sound indicator looks the way you want. The graphic can be changed easily by simply modifying the CSS.
Benefits of a Sound Indicator
Person recording is immediately notified if sound quality is poor.
Sound quality can be quickly corrected so you receive best sounding video.
Frequently Asked Questions
How can we change design of the sound indicator?
There are different ways for you to do that. If you are not a fan of codes, you can easily change it by selecting one of
our recorder themes
. If you are however loving tinkering with codes, then you might prefer building your own theme instead. If you want to just make small changes that is possible as well as our recorder is built to be easily modified through CSS.
Can you give me a practical example when sound indicator could be really useful?
Sure. Many cameras will have their microphones. You can also have actual microphones connected to your device and next to that have your headphones connected. At times with multiple microphone inputs you might not know if the sound is coming through. Just start talking a bit and you will see it turn into green or stay red. If it stays red, clicking the options and selecting a different microphone means a very simple way for your customer to record the video with the sound from first go.
Can we use sound indicator on every plan?
Yes. Sound indicator is one of our basic functionalities and it is added to all plans.