YouTube Integration
Launch your videos directly to YouTube from your private Ziggeo dashboard.
How it Works
Authenticate your YouTube Account: go to the third-party integrations settings in your Ziggeo account and connect your Youtube account to Ziggeo.
Select video or batch of videos to launch to YouTube by clicking on Upload to Youtube in your videos tab.
Launch
Moderate Prior to Launch
Submitted videos can first be screened via your dashboard. You can "approve" selected videos which then can be launched to YouTube. Here's a snapshot of the moderation dashboard where you can approve or reject videos: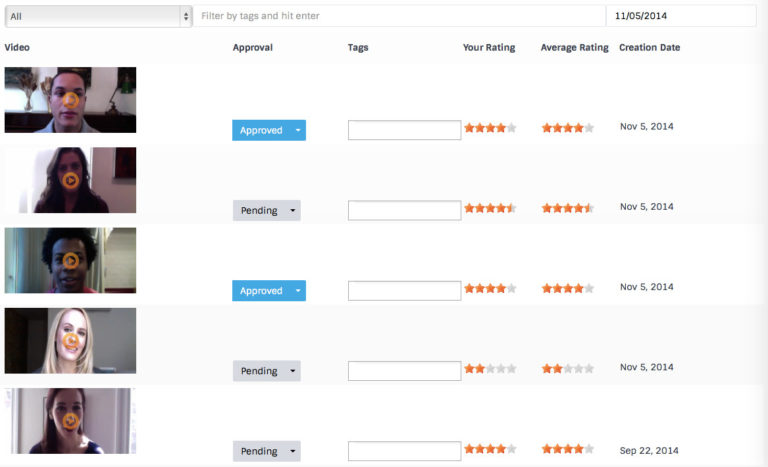 Attach Bug (Logo) Prior to YouTube Launch
Consider attaching a bug (that is, a logo or brand) to your video prior to launching to YouTube.
Here's how
Why use Ziggeo To Launch To YouTube
Facilitates Capturing of Videos From Community

No need for your community open a YouTube account, upload videos and send you a link.
Send your community a link or include a record button on your site
Link or button opens up a screen where video can be recorded/uploaded
Videos sent directly to your private dashboard.
Acquire Rights You Need

Moderate Videos Before Launching

Select videos you want to launch to YouTube from your dashboard
Maintain full control over which videos are made public

Add Bugs (Logos) or Filters Prior to Launching

See here for bugs and here for filters

Easy Launch to YouTube
With a click of a button, you can launch individual videos (or an entire batch of videos)
Frequently Asked Questions
Can I allow someone to moderate the videos without them gaining access to my YouTube account?
Yes! That is one of the intended ways you would use our system. Just invite the person as a sub-account and allow them to only see your Moderation page. That is it. They will not be able to see anything else than what you explicitly allow them.
Can I attach multiple watermarks based on who recorded video or what page it was recorded on?
Yes! You only need to create the effect profile once. Once you do, just reference it from any recorder and based on the reference it will apply different watermark for you.
Why is this different from directly pushing to YouTube?
Good question. Maybe you do not require attaching watermarks or moderating your content prior to uploads. This is common for someone that has own momentum and can do the steps manually. If you are running a website with many different videos however you might then start benefiting of pushing the videos to your Ziggeo account and letting others attach watermark, pick location and then push to YouTube once finalized. Same is for moderation if you are getting videos from your customers. Not only that, with Ziggeo your content is always your content. We do not remove your content if your YouTube account is removed, allowing you to have a backup - for just in case.