Managing The Content
Ziggeo's moderation dashboard organizes your videos in one place where you can view, share, download, and rate recorded videos.
What is your dashboard?
You'll receive a personalized dashboard which lets you organize, moderate and manage all your videos. See below for all that you can do from your personalized dashboard.
Features
A versatile dashboard lets you organize all the videos
Bulk Uploader for videos
Receive videos in an organized way
Event logs to track activities and stages of your videos
Permission settings
Share videos with your colleagues and outside partners
Tag videos so they are easily searchable
Mark which videos you want approved or rejected
Rate videos
Moderate (approve and reject) submitted videos
Moderation
Often times you may not want videos to be made automatically public. Videos can be submitted directly to your moderation dashboard and from there you can select which videos to feature, launch, share and/or make public.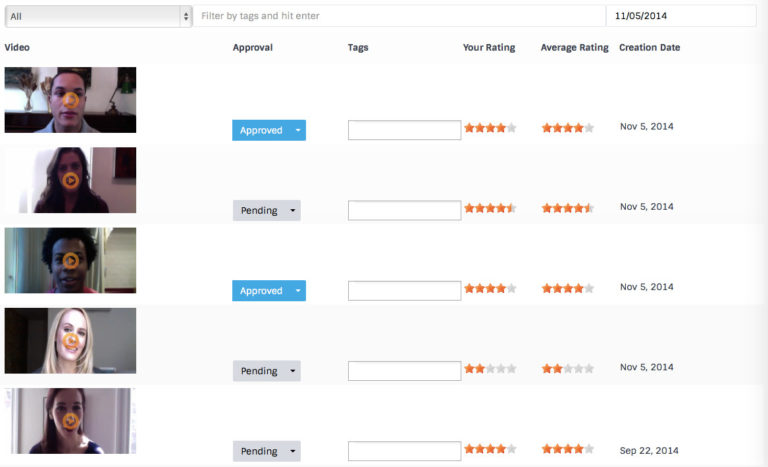 Media Management
Videos submitted directly to an organized dashboard that manages your videos
Videos can be searchable so they are easily found
Videos can be shared with anyone given permission to view the videos
Frequently Asked Questions
Can we build a similar dashboard to yours?
Yes and quite easily. We are utilizing the same API that you have available. Well it is a tiny bit different however you can easily create pages listing your media in any manner you like utilizing our API. Combined with our server side SDKs you can do a whole lot more.
I see some options for one application and not for the other. Why is that?
When the plan that owns the application does not allow certain options, these options are hidden. If you have access to multiple shared applications one application might be on plan that supports the feature you are after and it is showing it. The other application might not be so you are not seeing it.
How long does it take for changes in dashboard to propagate and become effective?
This would depend on what you are setting up or changing. Generally as soon as you allow or add some option it is immediately available. Same is with removing or disabling any feature.