Wordpress plugin Integrations tab
See info about our Integrations
Integrations tab
Integrations tab allows you to have an insight into the plugins that integrate into Ziggeo core plugin.
Core plugin is designed to offer the core service and to additionally provide easy way for others to integrate into it and connect it with other services or plugins.
It also offers a way to present your integration as one of the Integrations. If done right, this tab is where your script or plugin will be shown.
When they are you will be able to see the links to the plugins they integrate to, info about the developer as well as to activate or deactivate the integration.
What is listed here
This is automatically populated when the plugin is connecting into our integration system.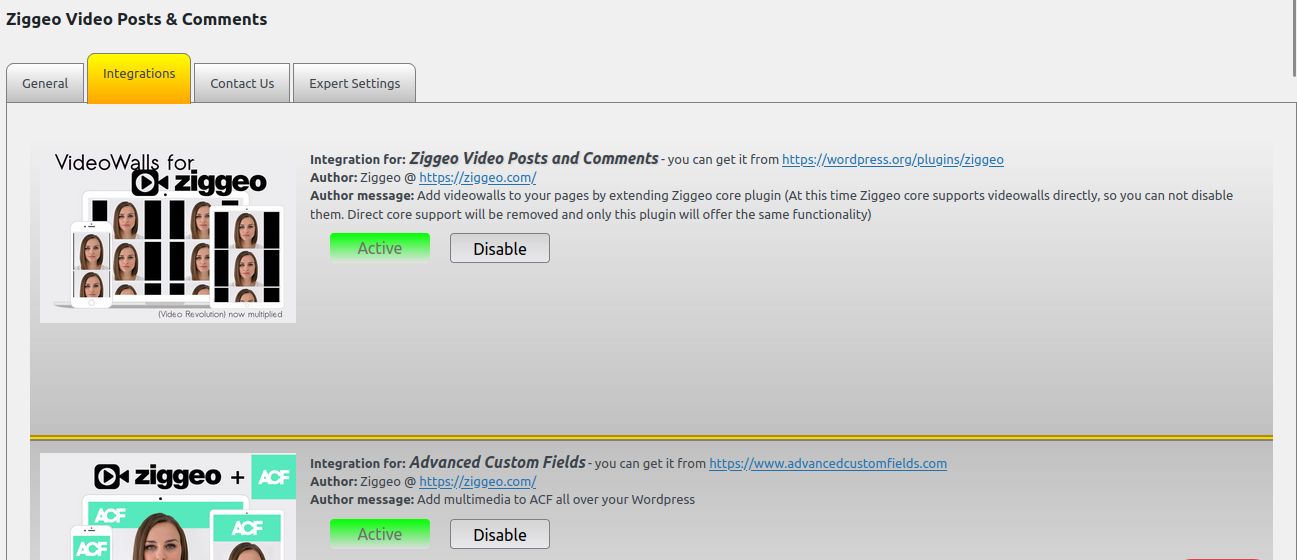 It will show you the integration of all activated plugins. That is for the plugin to be shown here, it must first be activated within the WordPress itself.
This however will show you the info you might need to know more about what you need to have it running.
Also if you disable it here, it will stop the loading of all files from that integration. This integration connection system that we have in place would make it possible for plugin owners only load their entire code when this is needed and minimal checks are run when not.
So if you need to keep the plugin active, however would not use it, just disable it here and you are all set.
How to Enable/Disable a plugin
While in general you would not need to do this, if you want to you always can.
To do it, find the integration you want to enable or disable in the Integrations tab.
It will either show you Active and Disable or Activate and Disabled buttons depending on the current status of the integration.
Click the button representing your desired action and that is it.
Want to make your own?
We prepared easy and simple way to create integrations. We have also prepared the text that you can read and follow together with some examples of how they work.
This and more you can find on our How to make your WordPress integration page.