Fluent Forms integration
See info on how our plugin extends your Fluent Forms
Ziggeo's Fluent Forms integration
With the Fluent Forms bridge plugin you can quickly start to add Ziggeo embeddings to your Fluent Form form and capture, upload or play video. You can get it from our [GitHub repository](https://github.com/Ziggeo/ziggeo-wp-video-for-fluent-forms/). We have described how to install it on [following docs](/docs/integrations/wordpress/install-plugin).
Setting it up
You will first need to install and activate Ziggeo's Core plugin Ziggeo core WordPress plugin.
If not already you will also need to install Fluent Forms plugin.
Once you do you will be able to install and activate our Fluent Forms bridge plugin. Once you do you will see the settings in the Ziggeo menu.

How to use it
The plugin will offer you a new set of buttons. These will be under the Ziggeo Fields menu.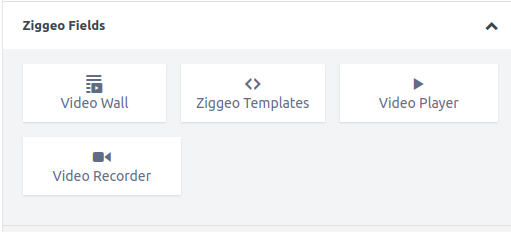 You have the following fields available:
Video Recorder
Video Player
Ziggeo Templates
Video Wall
For Video Wall option to show up you will need to have our VideoWalls for Ziggeo plugin. You can get it from WordPress.org or from Github repo.
Please note that in the form builder the fields will not expand to show their actual design. Once you preview the form however you will see the actual video player / recorder or any other embedding that you have set up.