Job Manager and Resume Manager addon integration
See info on Ziggeo to Job Manager and its addon Resume Manager integration
Ziggeo's Job Manager & Resume Manager integration
Ziggeo integrates into the Job Manager and its addon Resume Manager. There are simple options that allow you to fine tune what you want the integration to bring to your website.
The settings are split into settings affecting Job Manager and the settings affecting the Resume Manager.
We will explain all of them here as well as provide you with the info for the setup.
How to set up
Once installed and activated the plugin is ready to use. You might want to set things up so that your Job Manager and Resume Manager addon functions the way you want to.
To get to the settings you can either click on the link within the plugins menu or by clicking on Ziggeo Video for Job Manager under Ziggeo Video menu.

There you will find all of the settings related to the integration.
Job Manager related settings
The settings available allow you to choose if the video recorder and video upload fields should be shown on Job Submission form as well as how.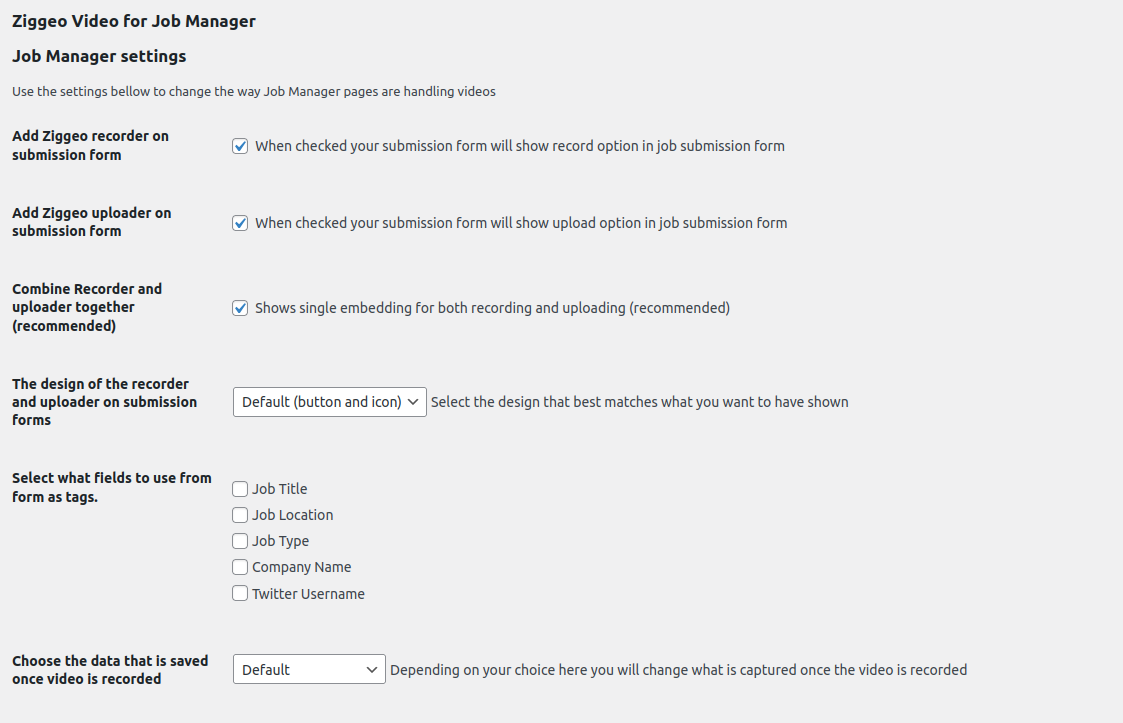 You can also select if you would like the design be one of the following:
Default (button and icon)
Show Icons
Show Buttons
The default is to show both button and an icon, however by changing this setting you can fine tune how the form looks.
Note: All styles can be affected by your own CSS, so if you want to change them, just add the CSS that you want to use.
Resume Manager related settings
The Resume Manager is an addon for Job Manager. In that sense, the settings for Resume Manager integration are seen as addons to the Resume Manager integration settings.
What that means is that your Resume Manager integration will use the same design choice you made for the Job Manager. This results in same look & feel of the integration.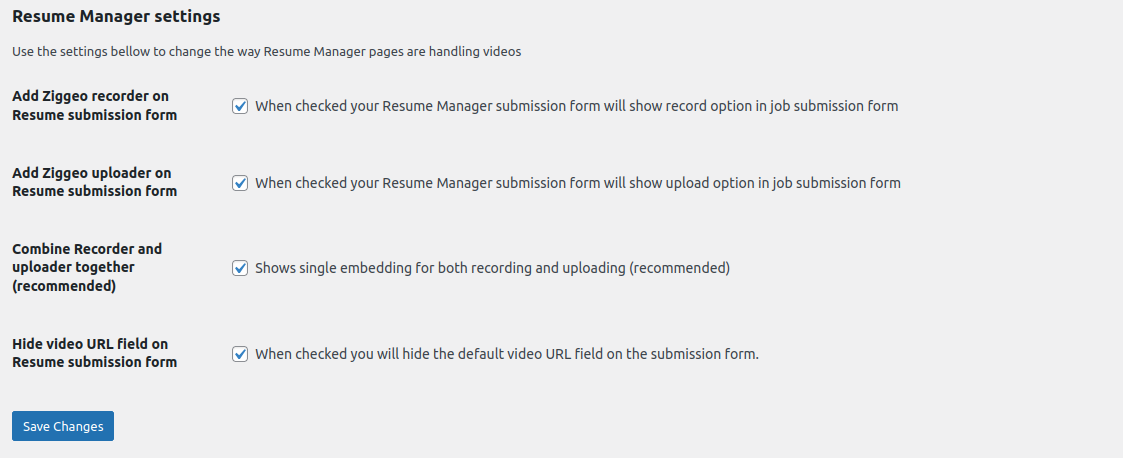 The options allow you to add or remove the video recorder from the resume submission form. They also allow you to do the same for video upload field.
Additional option is to hide the short text field shown on your form. The benefit of leaving it shown is that someone can share the URL to the existing video on any service.
The benefit of hiding the video field (leaving only integration choices) is that all your media is then in your Ziggeo account. While third party links can be easily shared, they can also be easily removed. Such action might allow you to see the video initially and then not be able to see it later on.
By hiding the link field for resumes you make sure that your resumes always have a video you can show.